Renaissance Sao Paulo Hotel
-23.5585498809814

,

-46.6617317199707
210US$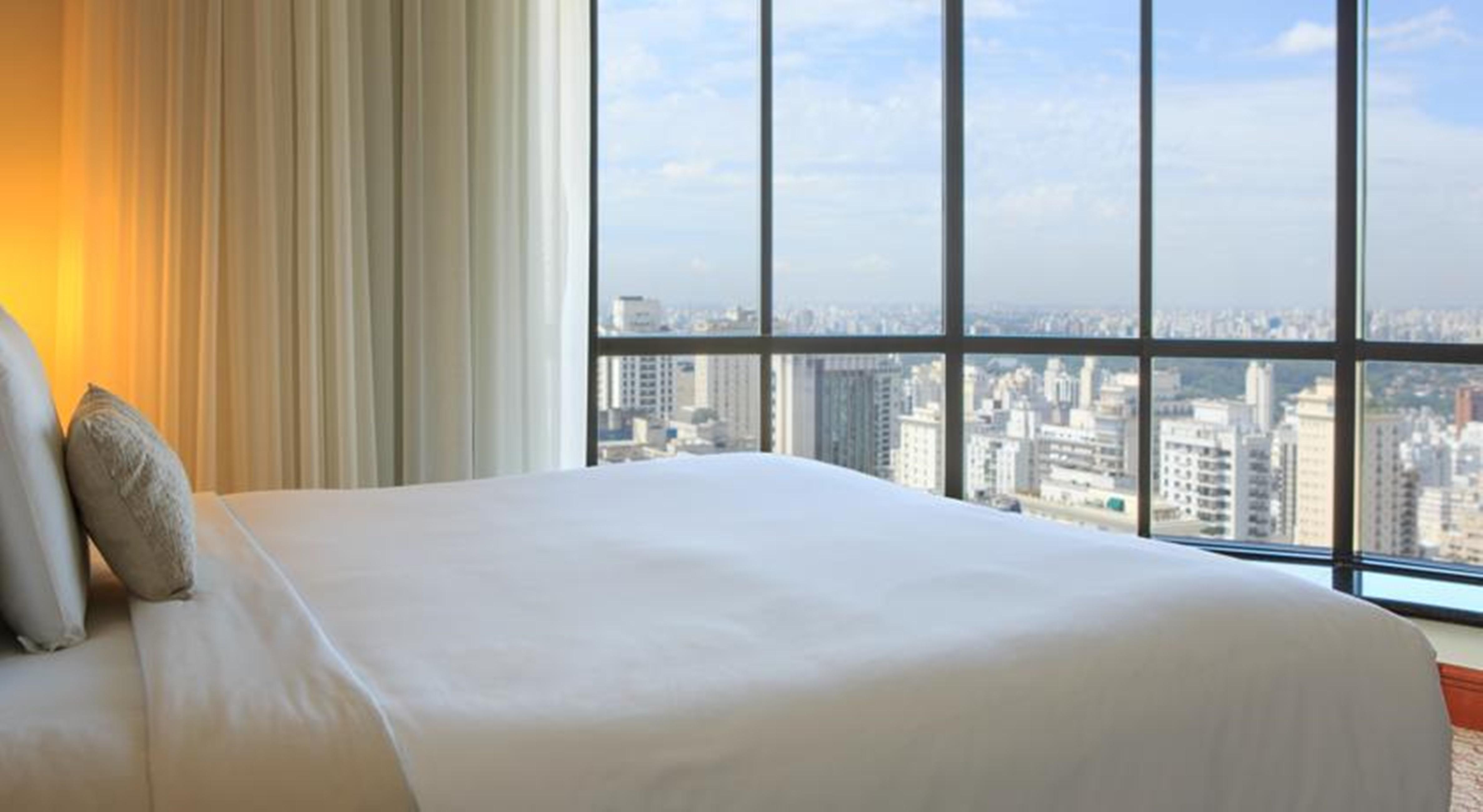 Highlights
Hotel Awards
According to guest reviews, the hotel has been rated as 
Use Badge
Address
Alameda Santos, 2233
,
Sao Paulo
,
Brazil
,
01419-002
, Southeast of Brazil
Overview
Located only 0.8 miles from Shopping Cidade Sao Paulo in Sao Paulo, the 5-star Renaissance Sao Paulo Hotel offers a wellness center including a Jacuzzi and a sauna. The hotel has an à la carte restaurant serving Brazilian cuisine and is situated a few minutes drive from Trianon Urban Park.
Location
This Sao Paulo hotel is set close to Shopping Center 3 and 550 feet from Consolacao subway station. Municipal Theatre of Sao Paulo is 1.5 miles from The Renaissance and Congonhas airport is 0.5 miles away. About 12 miles away from the property, guests will also find the fantastic Football Museum.
Parada Hospital das Clinicas bus stop is at a distance of relatively near Renaissance Sao Paulo Hotel.
Rooms
Equipped with an individual safe and smoke detectors, some of the 444 rooms feature soundproof windows along with a couch and a writing table. Some rooms have a private bathroom with a walk-in shower and a separate toilet.
Eat & Drink
Guests can enjoy their morning meal in the restaurant. Breakfast is served in the hotel's Terraco Jardins restaurant. There is a diner serving American food in 200 feet away.
The hotel offers a full breakfast at the price of US$22 per person per day. 
Leisure & Business
Leisure options include a sunbathing terrace and an outdoor pool offered for a surcharge. Beach facilities at Renaissance Sao Paulo include sun loungers, sunshades and towels.
Internet
Wireless internet is available in public areas for free.
Guest Parking
Private parking is possible on site at USD 11 per day.
The hotel personnel speaks English, German, Spanish, Portuguese.
Year renovated:   2012.  Number of floors:   25.  Number of rooms:   444.
Best-Rated Renaissance Hotels & Resorts Hotels around Sao Paulo
Renaissance Hotels & Resorts offers a unique experience for its guests. From the moment you step in, you're transported into a world of luxury and sophistication. With exquisite interiors and exceptional service, the hotel exudes opulence. Guests can relax in their cozy rooms or take a dip in the pool. Renaissance Hotels & Resorts stands for comfort, quality, and elegance that truly capture the essence of a sophisticated lifestyle.
129 reviews

169$ / night

312 reviews

151$ / night

120 reviews

186$ / night

141 reviews

170$ / night

458 reviews

256$ / night

116 reviews

257$ / night

57 reviews

119$ / night

68 reviews

269$ / night
Facilities
Most popular facilities
Free Wi-Fi
Free Wi-Fi in public areas
Baggage storage
Baggage storage
Locker room
24-hour services
24-hour reception
24-hour room service
24-hour security
Food/ Drinks
Bar/ Lounge area
Restaurant
Welcome drink
Snack bar
Coffee shop
General
Free Wi-Fi
Parking
Baggage storage
24-hour services
Food/ Drinks
Shuttle
Fitness/ Gym
Swimming pool
Sports & Fitness
Fitness center
Yoga class
Services
Paid airport shuttle
24-hour room service
Housekeeping
Laundry
Tours/Ticket assistance
Wedding services
Wake up service
Stores/Commercial services
Welcome drink
Happy hour
Dining
In-room breakfast
Restaurant
Snack bar
Bar/ Lounge area
Packed lunches
Special diet menus
Business
Business center
Meeting/ Banquet facilities
Printers
Fax/Photocopying
Spa & Leisure
Outdoor swimming pool
Sun loungers
Live entertainment
Night club
Sun terrace
Leisure/ TV room
Spa & wellness center
Sauna
Steam room
Jacuzzi
Pedicure
Manicure
Beauty treatment
Back massage
Head massage
Full body massage
Foot massage
Room features
Air conditioning
Heating
In-room safe
Mini-bar
Sitting area
Terrace
Tea and coffee facilities
Turndown service
Ironing facilities
Bathroom
Hair dryer
Free toiletries
Sink
Media
Flat-screen TV
Direct dial telephone
AM/FM alarm clock
Good to know
Check-in
from 15:00-23:59
FREE
Check-out
until 12 pm
FREE
Children & extra beds
Maximum capacity of extra beds in a room is 1. 
Pets
Pets are allowed on request.
Rooms and availability

Bed options:

Max:

2 persons

Bed options:

Max:

2 persons
City view

Smoking

Non-smoking

Bed options:

Max:

2 persons
City view

Smoking

Non-smoking
Location
Alameda Santos, 2233
,
Sao Paulo
,
Brazil
,
01419-002
, Southeast of Brazil
City landmarks
Nearby
Restaurants
Hotels nearby
Museum
Museum of Art of Sao Paulo Assis Chateaubriand
2700 ft
Mall
Shopping Frei Caneca
4400 ft
Av. Reboucas
Reboucas Convention Center
2700 ft
Brazilian art galleries
2.3 mi
Monument
Monument to the Bandeiras
1.5 mi
Museum
Sao Paulo Museum of Image and Sound
1.3 mi
Event hall
Mirante 9 de Julho
2300 ft
Shopping Area
Shopping Cidade Sao Paulo
4100 ft
Event hall
Itau Cultural Institute
1.3 mi
Rua Goncalo Afonso Vila Madalena
Rua Oscar Freire
Rua Oscar Freire Shopping Street
3000 ft
Rua Oscar Freire 827
Galeria Melissa Sao Paulo
3000 ft
Mall
Shopping Center 3
1100 ft
Avenida Paulista 2073 Bela Vista
Conjunto Nacional
1000 ft
Haddock Lobo
Haddock Lobo Street
800 ft
Church
Igreja Sao Luis Gonzaga
800 ft
Event hall
Instituto Moreira Salles
800 ft
Restaurant
Living Lounge Bar & Sushi
200 ft
Restaurant
Divina Panela Restaurante
300 ft
You can book a shuttle, once your reservation is complete.
Reviews of Renaissance Sao Paulo Hotel
John

Our thanksgiving stay was fantastic! The hotel had two complementary activities for guests: a city tour and a cocktail hour with delicious appetizers. The location was perfect, in a very central and safe area. We could walk to many restaurants and shops. Besides, the rooftop pool was a great advantage—we enjoyed swimming and sunbathing with a beautiful view of the city.

We had a few hiccups during our stay. The room service was very slow, and they forgot to replace our towels one day. Moreover, some staff members were not very friendly or helpful. We heard other guests complain about billing issues as well. But overall, this hotel was a great choice for our thanksgiving trip—the complimentary extras and fantastic location made up for the minor issues we encountered.

Phil

This hotel exceeded my expectations with its luxurious amenities. The Spa center is fantastic with a sauna, steam room, and multiple types of massages. The outdoor swimming pool area is perfect for relaxation with its sun loungers and sun terrace. The restaurant offers a varied menu and special diet menus, guaranteeing delicious meals for everyone. The in-room breakfast is a delight and a great start to the day.

The only downside was the noise from the night club and live entertainment was a little loud at times. However, the staff kindly provided earplugs for a more peaceful night's sleep. The exceptional service more than made up for this minor issue.

Robert

Spacious and clean room with a comfortable bed. The breakfast buffet was excellent, lots of variety and fresh fruits. The staff was friendly and always available to assist. A great fitness room was available, with modern equipment that suited my needs. The location was perfect, close to several restaurants and shops, I had everything I needed within walking distance.

One morning, I had trouble with the air conditioning in my room, which made me feel sick. I also found it strange that the meeting rooms had no natural light, which could be uncomfortable for some people. Finally, the checkout process was slow, and there was a discrepancy between the final price and the actual amount taken from my card. However, these didn't impact my overall enjoyable experience during my business trip at this hotel.

Jackie

Great complementary breakfast and free Wi-Fi. Location was very convenient for exploring the city. The gym had awesome equipment.

The room was too small, the bed was uncomfortable and the bathroom could have been cleaner. The staff was friendly at times, but often unhelpful with our questions about the city. our experience was subpar and we would not stay here again.

James

This hotel exceeded my expectations with its luxurious amenities and exceptional service. The Spa & wellness center provided a variety of treatments, including a full body massage and beauty treatments. The outdoor swimming pool, complete with sun loungers and a sun terrace, was the perfect place to relax. The bar/lounge area had a wide range of drinks and snacks to choose from. My room had private facilities and an exclusive in-room breakfast, adding to the overall exclusivity of the venue.

The only minor issue I experienced was with the sauna. While it was available, the steam room was not functioning during my stay. However, this did not detract from my overall fantastic experience at this hotel. In conclusion, this hotel is a great choice for those looking for a luxurious and exclusive stay with exceptional amenities and service. Despite the minor issue with the sauna, I would highly recommend this venue to anyone traveling to this area for a relaxing and indulgent experience.

Ann

Accommodation as offered, very good and varied breakfast, products for all tastes and ages. SPA service, facial and body massage, mixed sauna, swimming pool and excellent gym. Extended opening and closing hours so you can use them sooner or later, before any activity. The staff the best, even a small inconvenience was solved immediately, I highlight a small gesture of kindness from Maura that otherwise is very nice. Located a block from the subway near several shopping centers, I have traveled several times and tried many hotels in Sao Paulo, this one is for the high level of prices but the services correspond to what was paid, without a doubt one of the best options. Recommended for couples, ideal is to give a day of spa, will be delighted. Anyway, I'm already thinking about coming back.

On arrival a glass had traces of having been used, it was changed immediately, with the excuses of the case.

missing

Location very central - good SPA;

Internet terribly slow; rooms extremely cold, all attempts to turn the system to warm were unsuccessful; it only helped to turn it off completely, then it still wasn't warm, but at least you didn't freeze to death anymore.

missing

Service perfect . Perfect location and cleanliness

Expensive. WLAN not included (welcome 2018)

missing

The whole team was top, professional and very friendly and helpful. Good hotel driving service

nothing

missing

Amazing service.

Nothing.

missing

What I like the most was the location it is great . Also the staffs are excellent Great costumes services.

missing

Cleanliness, confort and location.

My room was so close to the employees area, and ir was so noisy!
FAQ about Renaissance Sao Paulo Hotel
How far is the city center from the upscale Renaissance Sao Paulo Hotel?
The upscale Renaissance Sao Paulo Hotel is located in Jardins district in the heart of Sao Paulo.
What landmarks can I find in vicinity of Renaissance?
During the stay at Renaissance guests can visit the scenic Ibirapuera Park (2.2 miles), Jardins District (0.5 miles) as well as Museum of Art of Sao Paulo Assis Chateaubriand (0.6 miles) among others.
What popular attractions are the closest to the upscale Renaissance Sao Paulo Hotel São Paulo?
The closest landmarks to the upscale Renaissance Sao Paulo Hotel São Paulo include Shopping Center 3 (0.2 miles), Conjunto Nacional (0.3 miles) and Trianon Urban Park, accessible with a 7-minute walk.
Is there parking at the Renaissance Sao Paulo Hotel?
Yes, the Renaissance Sao Paulo Hotel features a garage available on site.
What are our dining options during the stay in the Sao Paulo hotel?
At the Sao Paulo hotel guests can choose from 2 venues for in-house dining, among them - a highly rated à la carte restaurant Terraco Jardins (4.5 according to guests' reviews), featuring upscale prices.
Can I have breakfast at the hotel?
Yes, guests of the hotel can enjoy buffet breakfast served daily in the restaurant.
What time is check-in and check-out at the upscale Renaissance Sao Paulo Hotel São Paulo?
Guests of the upscale Renaissance Sao Paulo Hotel São Paulo can check in from 3 PM to 11.59 PM and check out from 12 PM.
How much is a room at the Renaissance?
In the Jardins district of Sao Paulo, 5-star hotels offer an average nightly rate of $316. The Renaissance is $117 cheaper than the city average at just $199/night.
Which amenities are included in the rooms of the upscale Renaissance Sao Paulo Hotel?
Certain suites at the upscale Renaissance Sao Paulo Hotel boast views over the city as well as feature a flat-screen TV with satellite channels and a personal safe and smoke detectors for security reasons.
Is the staff at the Sao Paulo hotel multilingual?
Yes, the staff of the Sao Paulo hotel can assist you in Spanish, Portuguese, German and English.
Does the upscale Renaissance Sao Paulo Hotel offer facilities for business travelers?
Yes, the upscale Renaissance Sao Paulo Hotel comprises a meeting room and a business center equipped with a photocopy machine and a desk.
Which facilities are available in the Renaissance Sao Paulo Hotel São Paulo?
The Renaissance Sao Paulo Hotel São Paulo includes such facilities as a cash machine and an elevator, whereas guests' safety will be ensured with a safe deposit box and a fire extinguisher.